A Brief History of Michiana Covenant Church
MCPC started in 1993 by a group of families that wanted to plant a conservative reformed church. At first the group met Sunday evenings at various homes. With the increase in numbers, it was decided the group needed a more formal organization and a larger place to meet. The group was named Reformed Fellowship to reflect their heritage. The next step was to decide which denomination to be affiliated with. Three were selected: PCA, OPC, and CRC. Each denomination sent a representative to talk about the process of becoming a particular church and to answer any questions. Before the vote to decide which denomination to affiliate with, it was agreed that a 75% majority was needed to affirm. The PCA was chosen.
On Sept. 12, 1993, we started meeting Sunday mornings and evenings at Ironwood Cr. By Jan. 1994, we had out grown the building at Ironwood Cr. and moved to the Montessori Academy on Day Rd. In October of 1993 we voted to change the name from Reformed Fellowship to Michiana Covenant Church (PCA).
Representatives of MCC were sent to the Great Lakes Presbytery meeting held Jan. 1994. We were officially approved as a mission work of the PCA. The first pastor was the Rev. John 'Skip' Gillikin, who moved here in July, 1994. Skip started Elder training classes with the men of the church. Four men were certified and elected to serve as Elders.
By January of 1995, a larger facility was needed. After meeting for several months at Faith Bible church, in September of 1995 we moved to The Children's Carousel Center near downtown South Bend. In that same year 10 acres were purchased in Granger with the anticipation of building a church on that site.
At its January 1996 meeting the Great Lake Presbytery approved our organization as a particular church. The Organization and Installation Service was held at the end of January. That spring, a group of 20 members planted trees along the Toll Road fence. Back Yard Bible clubs were held during the summers and a Women in the Church council (WIC) was established. The Session developed a set of By-Laws for the church.
In Oct.1997, Rev. Gillikin resigned as Pastor of Michiana Covenant Church. He later accepted a call to a PCA church in Ashville, NC. The following year, the congregation called Mark Levine, a recent graduate of Reformed Theological Seminary in Jackson, Mississippi, as our second pastor. Rev. Levine was ordained early in 1999, and was installed as Pastor of Michiana Covenant Church.
We continued our pilgrim journey around South Bend, this time meeting at the Seventh Day Adventist church near Ironwood and Altgelt. Then in July 2001, we moved into the Faith Lutheran building located on the west side of South Bend.
In September 2001, Rev. Levine resigned as Pastor of Michiana Covenant Church. Rev. Peter Wallace started supplying our pulpit while he was working on his doctorate at Notre Dame. The Suzuki Music School in Granger was our next meeting place. We moved there in Jan. 2002. Two Elders were certified and elected in 2003. Upon his graduation, Dr. Wallace was approved as Stated Supply with full pastoral responsibilities at the May 2004 meeting of Great Lake Presbytery, serving under a call from the OPC's Presbytery of Michigan and Ontario, and installed as Pastor of Michiana Covenant Church in July 2004 at a joint service of both presbyteries. (In 2016, after 15 years of serving as the OPC pastor of a PCA church, Dr. Wallace transferred into the PCA).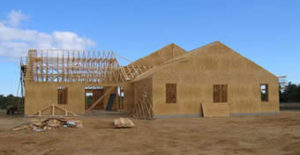 In 2003, a gift of $400,000 was received for construction of a church building. A Ground Breaking service was held on July 13, 2004. After many meeting places, we finally had a building of our own. We moved into our new church building in Dec. 2004. In 2013 we expanded the church building to provide more seating in the sanctuary, and additional classroom space.
Deacons were certified and elected in July, 2005. The building maintenance and the preparation of the annual church budget were handed over to the Deacons. Michiana Covenant Church members began to get more involved in the community with the leadership of the Deacons.
Over the years we have frequently ordained graduate students as deacons — of the thirteen men ordained as deacons, eight have been Notre Dame graduate students. While their stay with us may be of short duration, they have given us much in their time with us — and now they serve in congregations all over the country.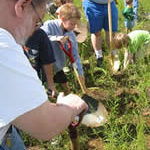 In 2006 we adopted a struggling mission work in LaPorte. From 2007-2010, the Rev. Frank Hamilton served as our associate pastor with particular responsibility for the LaPorte mission, before he took a call back to North Carolina. From 2011-2016 the Rev. Jonathan Bonomo labored in LaPorte and South Bend, before taking a call back to the Philadelphia area. From 2015-2016 we also had the part-time services of the Rev. Blair Smith who labored in South Bend while working on his Ph.D., before he received an appointment as professor of systematic theology at Reformed Theological Seminary in Charlotte, North Carolina.
At first our 'pilgrim journey' referred to the way in which we moved from place to place — but the theme of a 'pilgrim people' continues to characterize us as we seek to be a home for pilgrims and sojourners, those who are looking for a city that has foundations (Hebrews 11).